The Cairo House
---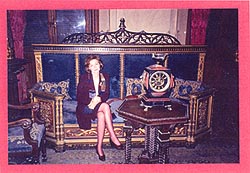 The Cairo House, Samia Serageldin, pp. 224, Syracuse University Press, $24.95 (0-8156-0673-7).
Website:
http://sumweb.syr.edu/su_press/FALLbell2000/Cairohouse.htm
Email: sserag@duke.edu




---
The Cairo House is a semi-autobiographical novel. Its heroine is Gigi who is now living in the United States. Gigi returns to Egypt after an absence of many years to seek a son she left behind and to determine where she belongs. Gigi recalls her early affluent childhood in the 50's and 60's, including the house where she lived, her family, her French governess, the servants,and the Agami beach . She also remembers the sequestration laws enacted by Nasser which brought an end to her happy childhood.. She describes how some members of her family, including her uncle the venerable Pasha, were sent to prison and how others were placed under constant surveillance and the effects this had on her life and the lives of those close to her. To get away from the deteriorating and unbearable atmosphere Gigi marries and leaves for England. She is unhappy in her marriage, but finds herself pregnant. Five years later she returns to an Egypt where the political atmosphere has changed and witnesses her uncle become the leader of the most powerful opposition party. Renewed by the political transformation of her birth country, Gigi yearns for a new start to her life. She tries to obtain a divorce, but runs into great difficulties. She escapes to France leaving her four year old son behind. She eventually obtains a divorce, remarries and emigrates to the United States. Ten years later she returns to Egypt. She is reunited with her son and re-establishes her relationship with her family. However, she remains torn between her past and her present.
Through the structure of the novel, the reader is given a unique glimpse into the lifestyle of the upper echelons of Egyptian society in the 50s and 60's and along the way learns a great deal about some of the political and social developments during that period. Samia describes many events vividly and with great sensitivity, such as when she writes about the landing at the Cairo International Airport, life in the Cairo House, the effects of sequestration on Gigiís family, and driving in Cairo. The reader cannot help but be drawn in emotionally to the heroinís plight. Gigi was a victim of the hardships her family was subjected to and this makes her final decision and the arguments provided very plausible. The book is fascinating to read and is highly recommended .
Mohamed Hamza
Samia Serageldin graduated from the Manor House in Zamalek . She obtained a B.Sc. Degree in Political Science from Cairo University in 1971 and a Master of Science degree in Politics from London University in 1974. She returned to Egypt in 1977. In 1980, she emigrated to the United States. She worked as a translator and editor, and taught French from 1989 to 1996. Currently, she lives in Chapel Hill, North Carolina, and teaches at Duke University in the Department of Asian and African Languages and Literature. Samia is married to Mohamed Serageldiní61 and is the mother of Kareem and Ramy. Samia and Mohamed attended the ESC Reunion in Washington D.C., October 1999.